Our Top Picks for Leeds Digital Festival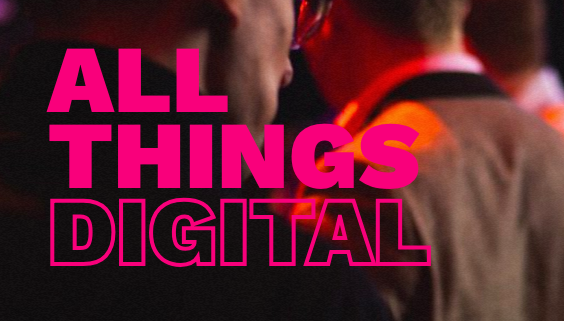 It's a pretty exciting time in Leeds at the moment in regards to industry events. With the start of Leeds Digital Festival this week we're seeing, quite literally, hundreds of events to attend across the marketing, digital and creative sectors. From learning about the life of a UX Designer, to Coding in the Dark – there are fantastic options, across broad and very niche subject areas. But where to start?
We've had a good search through the Leeds Digital Festival line up and picked out key events that are firmly on our radar:
ALL IN. LEEDS SOCIAL & MEET THE AGENCIES
East Parade Social, Leeds
Thursday 25th April, 17.30 – 20.30
All in. Leeds, a collective of Leeds agencies, was sparked by the city's bid to become the new home of Channel 4 outside of London. This event gives you the chance to share a few drinks with the Leeds agencies that form part of the All in. Leeds group. All are welcome, you don't have to be part of All in Leeds to attend. If you're a student or work in another sector in the city please feel free to join them for a drink.
DIVERSITY BY DEFAULT: DIGITAL LEEDS
Leeds Town Hall
Thursday 25th April, 17.00 – 20.00
Diversity by Default is a series of events hosted by Lloyds Banking Group where they convene experts and influencers in the inclusion and diversity space. They will be hosting an event in central Leeds focussing on what it means to be 'Digital' in a city like Leeds.
Is there a north and south divide when it comes to tech recruitment and roles? Is there a class divide when we consider who does what in a digital world? How can we change perceptions by using the language and positive change around the Northern Powerhouse to create a silicon city?
IMPOSTER SYNDROME AND NON-TOXIC WORK ENVIRONMENTS
Sky Betting & Gaming, 6 Wellington Place
Friday 26th April, 12.00 – 13.30
Sky Betting and Gaming shine a spotlight on People and Culture in their event for Leeds Digital Festival.
Non Toxic Work Environments
Alex Stanhope – Cloud Architect & DevOps Consultant from Lightenna and Ex-Sky Betting & Gaming Solutions Architect
Stress can be a fantastic healthy way to experience new challenges, grow and learn, but without the right context, support and respite it can do real harm. In this session we'll look at the things we can all do to keep our workplaces happy and productive.
SKILLS FIT FOR THE DIGITAL AGE
A Q Ltd, 13-15 Hunslet Road, Leeds
Monday 29th April, 17.00 – 19.30
Child Friendly Leeds invites you to 'Skills fit for the Digital Age' – a session where they will bring together educators and the digital sector to explore how we can support children to develop the range of skills needed to be work ready in a digital business.

This event – co-ordinated by Leeds City Council – explore Leeds as a digital city, and looks at how organisations might engage with young people and the education sector to increase the appetite for careers with a digital focus whilst promoting and developing digital skills.

Speakers include:
Eve Roodhouse, Chief Officer, Economic Development
Tom Riordan, Chief Executive, Leeds City Council
Professor Adam Beaumont, Trustee, The Eden Project & CEO aql
Stephanie Burras, CBE, Chief Executive of Ahead Partnership
Catherine O'Connor, Head of School (Arts and Communication), Leeds Trinity University
Rashik Parmar, IBM Fellow & Vice President Technology – Europe
Dr Victoria Betton, Managing Director, mhabitat
Paul McGolpin, CEO & Founder of Mindscape
Stuart Clarke, Digital Marketing and PR Consultant & Festival Director of the Leeds Digital Festival
WE NEED TO TALK ABOUT BRAND
I-View Leeds Ltd, Platform Leeds
Tuesday 30th April, 18.00 – 19.30
Where did it all go wrong? In a world of big data and clever digital marketing tools the brand has been forgotten. So, if you are responsible for a brand and want to understand why they feel brand is more important than ever, come and join at I-View Leeds Ltd for this provocative session that explores how, by combining traditional brand strategy with data and digital tools, we can Make Advertising Great Again.
LIFE OF A UX DESIGNER
Bruntwood, Platform Leeds
Wednesday 1st May, 13.00 – 14.00
Cyber-Duck is an award-winning agency that has delivered transformation for clients such as the Bank of England, Mitsubishi Electric and Cancer Research. In this talk, meet two of their Ducks and hear what it's like to live the life of a UX Designer. You'll hear about the types of projects they work on; the tools they use; and how to get into UX.