MET Marketing – Five Years Young and Looking Forward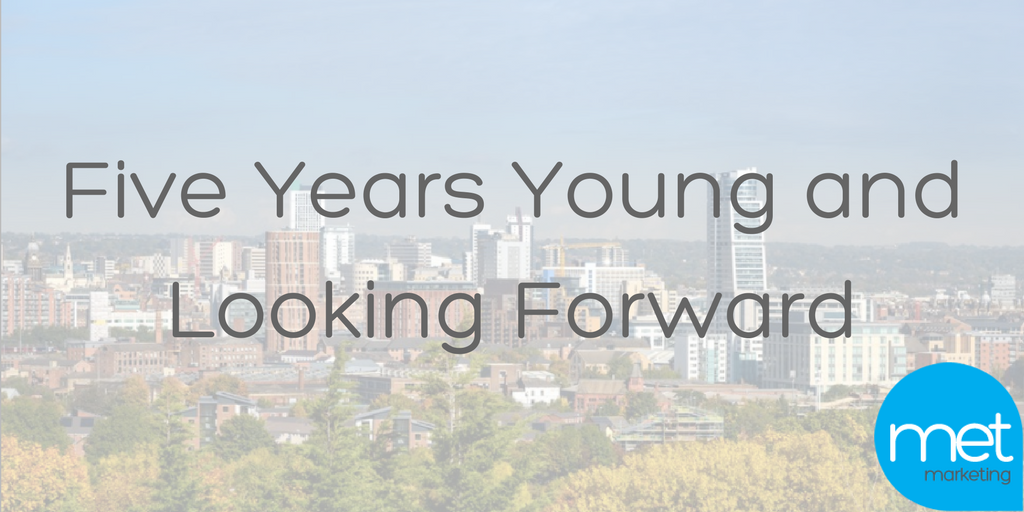 In 2012, the three of us made the decision to take the leap and go it alone, setting up MET Marketing in the April.
Over the last five years, MET have worked with more than 200 businesses to place over 550 candidates in marketing positions across Yorkshire and the North West.
These achievements wouldn't have been possible without our experienced specialist consultants, who have over 55 years of recruitment experience between them in a variety of sectors.
Year on year growth has been great but earlier in 2017 we got to the point of 'so what' and 'why are we doing this?'
We have taken the step to really invest in the future of the business both financially and in our commitment to an ambitious 15-year plan, meaning we now have a clear vision underpinned by our true core values.
Who are MET?
We are striving to be the company known for changing the reputation of recruitment.
Here at Met Marketing, our purpose is to identify opportunities that will allow people to progress in their careers and benefit from the result.
Morally, we always try to do the right thing because we believe that everybody's wellbeing matters. We strive to achieve the best results possible and know that everyone, candidates, clients and our own team, should be empowered to reach their full potential.
But what do we do?
From our Head Office in central Leeds, we work with individuals across the North and place Candidates in their ideal role with Clients who have a requirement that supports their business.
The value we add is spotting skilled individuals and matching them to opportunities before they are even available. This means we have to know our Candidates and Clients in detail, meeting and networking with them on a regular basis.
Is MET Marketing for you?
Our focus for the short to medium terms is supporting Northern based businesses and candidates who are looking to develop further, be this growing a team or an individual's career.
Whilst we work with some of the biggest brands in the North our real strength is working with small to medium size businesses who are looking for a partner to work closely with, long-term.
Currently, our database shows that 13% of candidates we found marketing positions for earn over £50k a year. While 34% are earning between £30-50k and 53% earning under £30k.
Any Marketing, Digital or Creative companies looking to hire, may use our proven services to find the perfect candidate for the job.
Our database shows that 60% of our current Client base is in Yorkshire, 25% in the North West and 15% elsewhere in the UK.
MET matches Clients and Candidates for a selection of marketing positions in varied fields including Manufacturing and B2B, Financial Services, Fashion, Beauty and Retail, Agency, IT, as well as Leisure and Travel.
The business is now in a great place for the future and we are all excited about the potential that is available to us.
We want to know what makes you tick, whether you're a client or a candidate. So gives us a call, email or even a tweet and we can have a chat!
0113 898 0240