An Inspiring Lunch With Prince Harry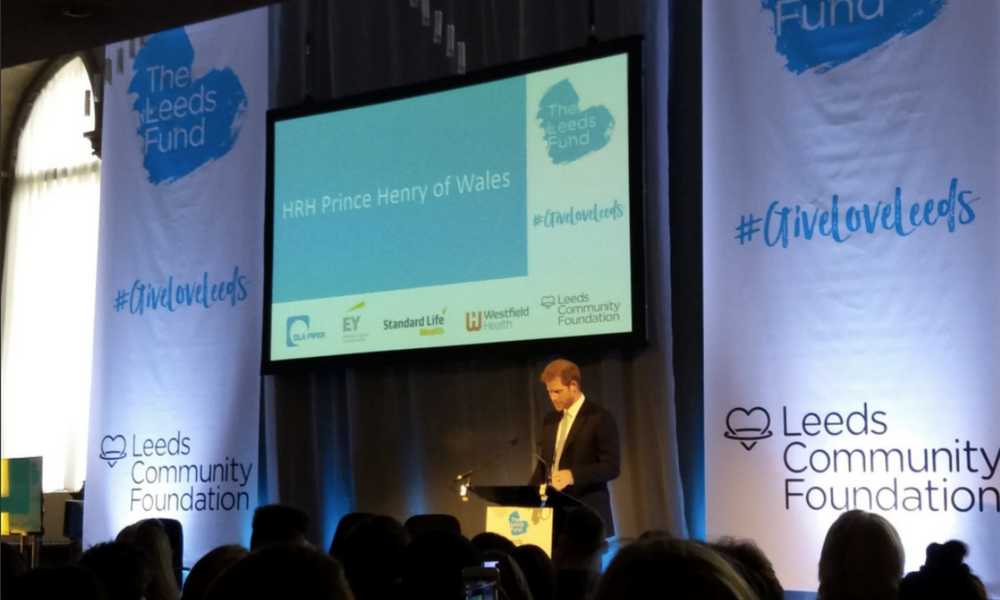 We were lucky enough to be invited to the Aspire in Leeds to hear about the great work The Leeds Community Foundation and The Leeds Fund are doing to tackle mental health issues experienced by young people in Leeds. Read our blog featuring Prince Harry Tom Riordan and Stevie Ward.
Encouraging Happy Young Minds
75% of Mental Health Issues Start Before the Age Of 18
Arriving just after 11am we were greeted by a screaming crowd all holding their cameras aloft like a pop star had arrived, not a member of the Royal Family. For important issues such as mental health, this is exactly what is needed and by embracing and championing mental health Prince Harry, William and Catherine have brought huge attention to it and onto the front pages.
The event was expertly chaired by Jacqui Harper with further engaging presentations from Tom Riordan, Chief Executive, Leeds City Council; Emma Holmes, CEO, The Market Place and Kate Hainsworth, Deputy CEO, Leeds Community Foundation. Prince Harry spoke with real passion about why engaging with and talking more about mental health issues especially by the young is so important.
Suicide Rate Amongst Leeds Men is 5x Higher than in Women
Whilst Harry was the undoubted top bill draw, it was a 23 year old Leeds lad, sharing his experience of depression who really stole the show. Stevie Ward plays for Leeds Rhinos and from the outside he would appear to be living the dream. Successful career in Rugby League, young and easy on the eye, what on earth would he have to be depressed about?
His down to earth words of his own struggles and advice for others in a similar position really struck a chord with the audience and truly showed how mental illness can affect absolutely anyone. A key point Stevie raised was how coming out of the other side can actually make you stronger. He has set up Mantality Magazine which is an online magazine to encourage people to open up about their mental health struggles.
Working in the marketing and digital field as we do, what was never far away was the impact that Social Media is having on young people. It is now almost impossible to escape words and images even after shutting your front door at home. And whilst there are many positives that this brings to our lives, there are also the negative effects such as trolling and unrealistic images we all need to be aware of and more responsible with.
This was a fantastic, high profile event hosted in Leeds that has really made us here at MET think so much more about our own mental well-being and that of our colleagues. There are so many great organisations out there we can turn to, so please take a moment and head to their websites: