Highlighting women in business – the perfect advertising campaign by Stabilo Boss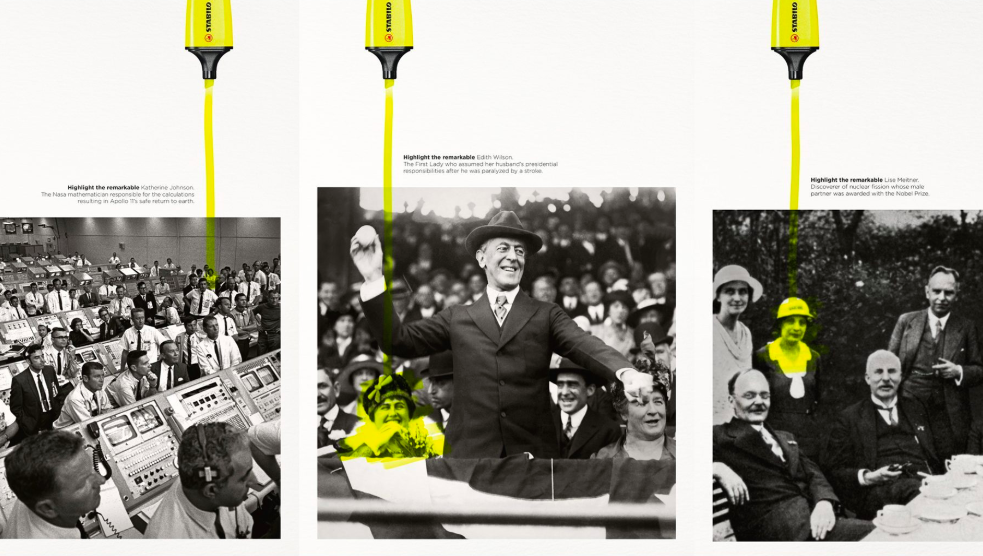 Being overlooked within the workplace and business has sadly been commonplace for many women over the years. And although we're conscious about the progress that has been made with gender equality in the workplace, it is often only when served with reminders that it gets brought back into the foreground of thought. Be it by wincing at an episode of Mad Men or hearing about the misalignment in TV presenter salaries in the news, for example.
One of those reminders of 'how far we've come' with women and business – and in itself attempting to retrospectively mend some of that inequality – is the fantastic 'Highlight the remarkable' campaign from Stabilo Boss.
Stabilo Boss is a well-known stationery brand. German and family ran, Stabilo Boss continues to be Europe's best-selling highlighter. Although how does the brand continue to make itself relevant, aside from when it's back to school? Stabilo Boss worked with worldwide advertising agency DDB who created their very well-received print campaign last summer. Based on the saying that 'behind every great man is a great woman', DDB explored exactly what this meant. But what it seemed to mostly mean, was that women were more often than not upstaged, put to one side, the assistant, on the side-lines or altogether unrecognised.
Stabilo Boss chose to edit the past, by highlighting the unrecognised women who were involved in remarkable feats and shared their stories. This included; Lise Meitner, whose male partner was given a Nobel Prize instead of her for the discovery of nuclear fission and Katherine Johnson, the Nasa mathematician, responsible for calculations resulting in Apollo 11's safe return to earth.
It's brilliant to see some belated attention and credit being given to a handful of the many great women, that had otherwise been put aside within these achievements. And for this to be done in such a clever and poignant way is a testament to DBB, who have created the upmost relevance for the Stabilo Boss brand.
Although gender equality now represents something very different to the days of Apollo 11 and the discovery of nuclear fission; with a recent stat stating that a fifth of northern digital businesses employed no women, there is still some progress yet to be made.   
Images by DBB for Stabilo via Ads of the World