A MET-eoric effort at Leeds Triathlon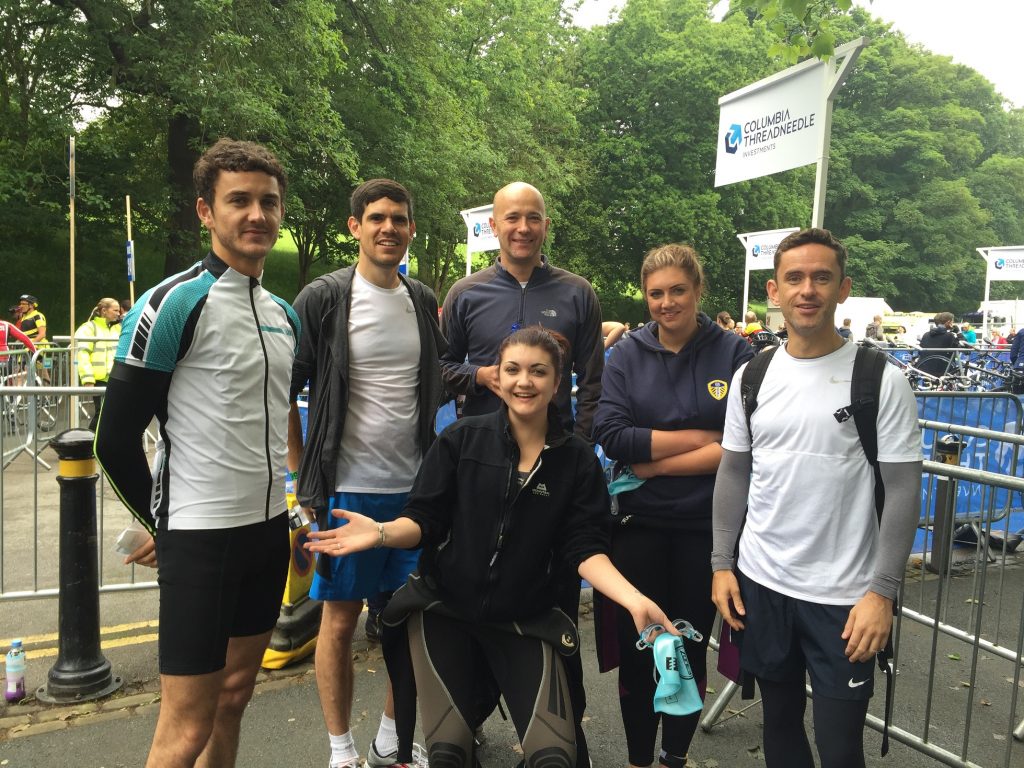 As the residents of Yorkshire flooded the streets of Leeds on Sunday to witness the Brownlee brothers dominate the ITU World Triathlon Series race little did they know that the main event had already been missed.
At 10.08 precisely two teams of MET employees started the first leg of the sprint relay with Jess and Cloe dunking themselves in Roundhay Lake. The aquatic pair, who had trained together and made a pact to complete at the same time, soon got separated. Jess maintains she "lost" Cloe although a conspiracy theory that a certain competitive nature took control may have some grounding. Either way, Jess took a 5 minute lead coming out of the lake and passed the baton (or more accurately the electronic chip) onto Tom Hiley of MET Sales whilst Cloe followed and left the responsibility of closing the gap to Tom Fordham.
The two Toms sped out of transition and eventually made it up the immediate climb that faced the cyclists at the start of their leg. Cycling through the crowds in Roundhay, Meanwood, Headingley and finally Leeds City Centre Tom H made a drastic error and missed the turning point, reducing his leg to 14km rather than the planned 20km. This opened a door for Tom F to kick through by simply following the correct instructions and taking a victory by the disqualification of his counterpart. Having had to stop twice to reattach his chain and fallen further behind this was the opportunity Tom F needed. Surely he would take it… sadly not. Tom F missed the same turning point and also went straight through to the run transition point.
The runners (Ed & Miles) eventually set off, having only just made the transition point in time given the extreme speed at which their predecessors had completed their sections. Ed used his youthful energy to speed round his 5km in just over 20 mins and was closely followed by Miles's streamlined head in c23mins. The crowds roared, the medals were collected and the beers everyone had been waiting for were swiftly consumed.
This was the first venture into Triathlon's for any of the competitors and immediate enthusiasm on completion was mixed. Next year may even see some individual entrants, with more training, more course knowledge and faster times, or not…